Hardwood Floor Installation
Budget
Take an honest look at your budgeting options. Flooring prices are determined by several factors including supply and demand, the availability of a particular wood species, the costs involved in harvesting the lumber and transporting it.
Because of this you'll find that pricing on wood floors can vary amongst hardwood flooring retail stores and amongst selection and availability. Remember that if you are settled on type of species in one color, you might be able to find to similar product that will work just as well in another collection we stock that may be cheaper.
Color
Choose a color that will work with your décor or the overall look you're striving for. Darker colors seem to provide a more "formal" look depending on the choices of furniture. Lighter colors seem to open a room up. Narrow planks tend to also avail more formal looks while wider planks tend to avail to a more country, rustic or open look. Grain patterns in the wood will either contrast or blend with the color tones of the product you choose and each of these things plays a factor in how your overall floor will look upon completion.
Room Use
Consider the use of each room you want to install hardwood floors into. Rooms that are below ground level are only suitable for floating or engineered hardwood flooring products due to the increased risk of moisture issues. This is the same for bathrooms and laundry rooms. Some rooms get high foot traffic such as walk ways leading from a back entrance into the home or hallways. In these places, particularly darker colors or lighter colors may show the increase in wear in the finish. Some grains may also lend to a more "worn" look.
Standards
Use the National Wood Flooring Installation Guidelines as the standard in hardwood flooring installation and recommend you use installers who adhere to these guidelines.
Source:woodmonsters
Floor Floor We Restore has re-established the attractiveness in hundreds of homes and businesses throughout the Houston Area for Over 20 Years. Since 1984, we have provided maintenance and restoration that is essential to the beauty of floors and surfaces everywhere. With 30+ years of experience and never using subcontractors, we have perfected our trade to better serve you. We are a locally, family owned and operated company who GUARANTEE all of our work.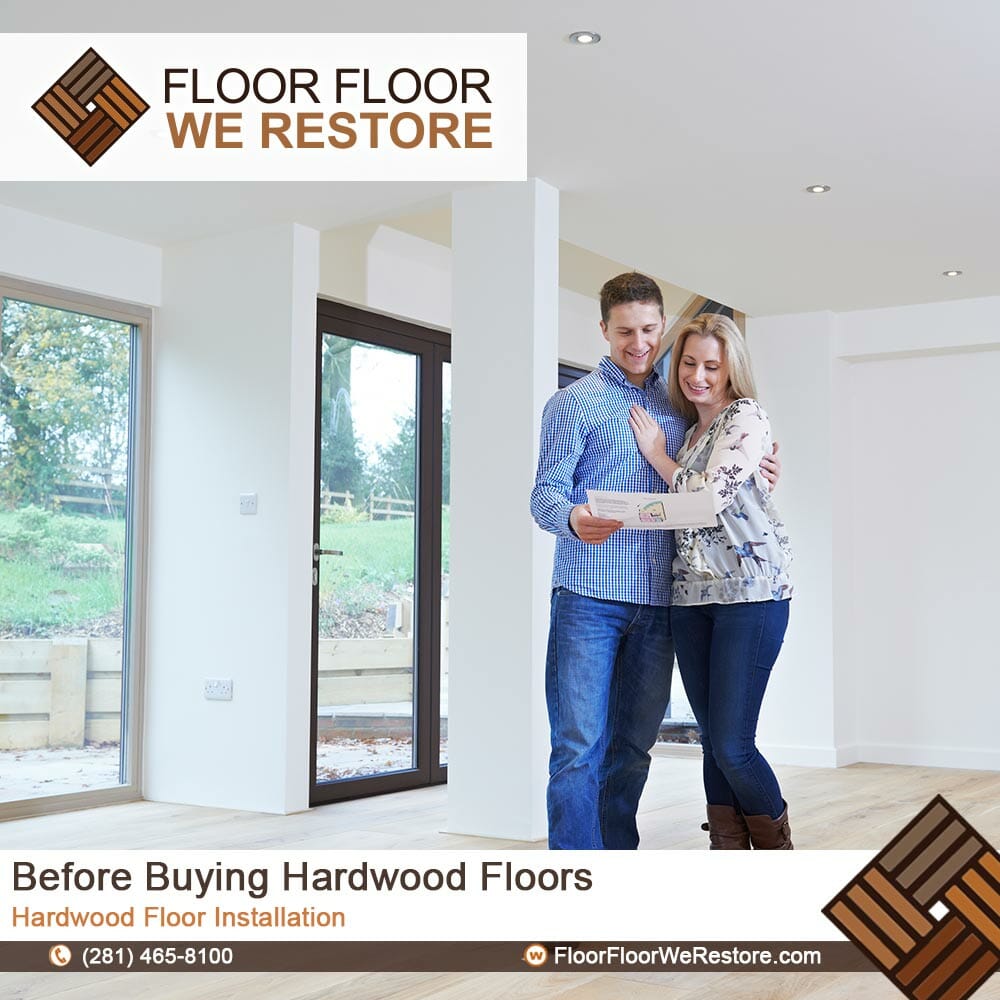 Hardwood Floor Installation
Floor Floor We Restore, marble flooring in Houston, hardwood floor restore in Houston, Houston restore hardwood floor, Houston restore hardwood floor shine, restore wooden floor, restore a floor reviews, restore floor tiles, wood floor restore, floor restorers, floor restore and more, floor restorer, hardwood restore, stone restore, slate restore, saltillo restore, tile restore, grout restore, terrazzo restore, travertine restore, floor surface restore, floor recovery, cleaning hardwood floors, hardwood floor polish, buffing floor, water damage floor restoration, sand and finish hardwood flooring, hardwood floor installation, hardwood floor repair, hardwood floor installation, hardwood floor repair, hardwood floor installation, hardwood floor repair.