Marble flooring contractor in Houston

There's no single, one-size-fits-all tip for cleaning countertops. Regardless if your countertops are made from granite, acrylic, laminate or any other material, they should be able to withstand all spills — no matter how big or small they may be.

Always inquire about a countertop's level of maintenance before you put on the rubber gloves to clean up a spill. Every surface is different, and some materials can withstand kitchen mishaps better than others. Even if you're a world-class chef, your countertops are bound to take a little abuse, but do you know how to return each surface back to its original splendor? These cleaning tips will ensure that your countertops will sparkle and shine for many years to come.

Granite is an igneous rock, and its natural properties and wide range of colors make it a stylish choice for today's countertops. Granite can be used to make many household objects, including floor tiles and paving stones, but countertops are one of the most popular ways to use the material.

Acidic cleaning products and anything vinegar-based can damage granite, so only use warm water, a conservative amount of soap and a wet sponge or soft cloth to clean the surface. Granite can be porous if it isn't sealed properly, so it should be cleaned thoroughly and sealed before it's installed. Some companies sell special cleaning kits that contain a sealant-specific solution to protect the surface, so contact your granite provider or the company that installed your countertops to inquire about specialized products.
Source:Howstuffworks
Floor Floor We Restore has re-established the attractiveness in hundreds of homes and businesses throughout the Houston Area for Over 20 Years. Since 1984, we have provided maintenance and restoration that is essential to the beauty of floors and surfaces everywhere. With 30+ years of experience and never using subcontractors, we have perfected our trade to better serve you. We are a locally, family owned and operated company who GUARANTEE all of our work..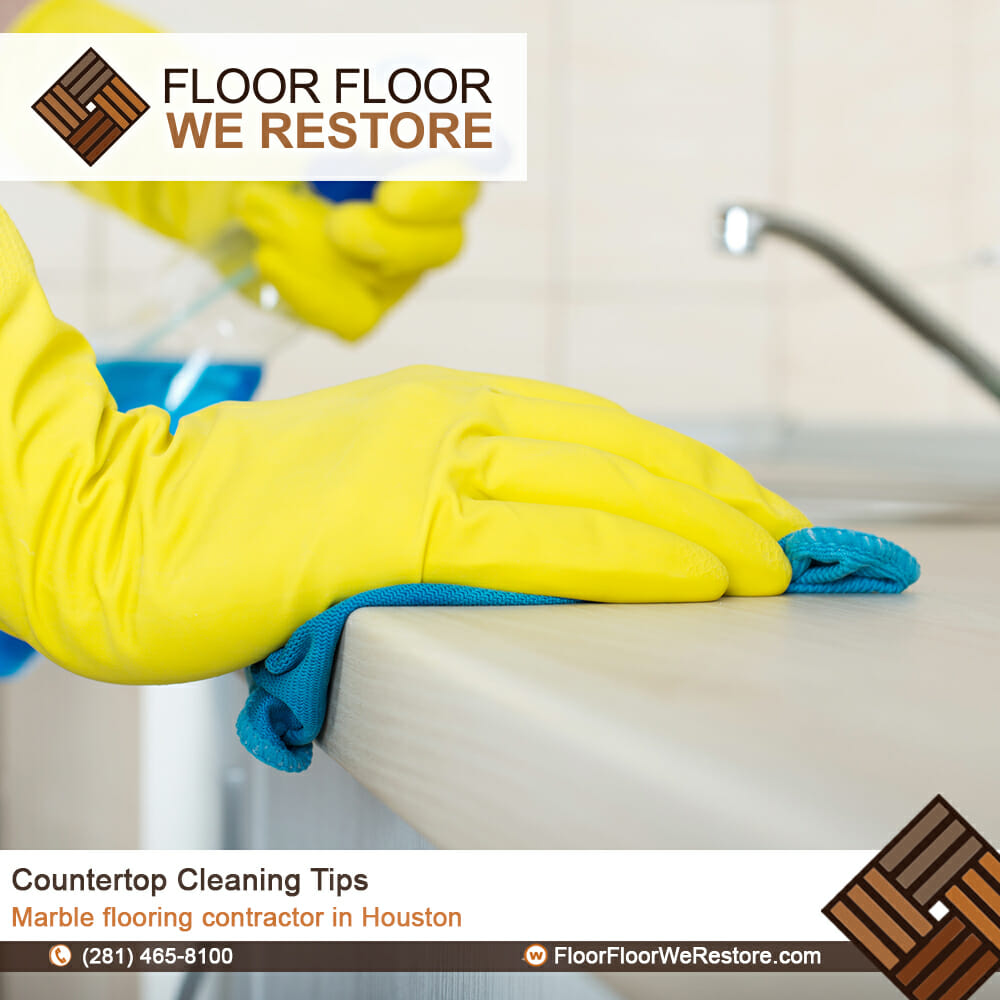 Marble Flooring Contractor in Houston
Floor Floor We Restore, marble flooring in Houston, hardwood floor restore in Houston, Houston restore hardwood floor, Houston restore hardwood floor shine, restore wooden floor, restore a floor reviews, restore floor tiles, wood floor restore, floor restorers, floor restore and more, floor restorer, hardwood restore, stone restore, slate restore, saltillo restore, tile restore, grout restore, terrazzo restore, travertine restore, floor surface restore, floor recovery, cleaning hardwood floors, hardwood floor polish, buffing floor, water damage floor restoration, sand and finish hardwood flooring, hardwood floor installation, hardwood floor repair, hardwood floor installation, hardwood floor repair, hardwood floor installation, hardwood floor repair.