Hardwood floor repair contractor in Houston
1. – Protect Your Solid Investment. – Solid hardwood floors are among the easiest to keep clean. Protect their warmth and character with simple, everyday cleaning techniques. It's important to know how to prevent damage to your solid hardwood floors.
2. – Prevention
DIRT and GRIT : Dirt, grit and sand are your hardwood floor's worst enemies.
They act like sandpaper on the finish, causing scratches, dents and dulling. Place floor mats at entrances to trap dirt and prevent damage.
WATER AND OTHER SPILLS : Standing water can warp a poorly finished hardwood floor and can damage the finish. Simply wipe up all spills as they happen.
HARD CLEANERS : Avoid oil soaps. They can build up and create problems when it's time to put a maintenance coat on the floor. Instead, neutral pH cleaners made specifically for wood floors are recommended.
FURNITURE : Lift the furniture to move it avoid dragging. Felt contacts under the legs will help prevent scratches.
DENTS : Vacuum with a brush attachment don't use vacuums with beater bars.
SUN : Direct sun can discolor your hardwood floor. Close curtains and blinds or add sheer drapes to protect from the sun's intense UV rays.
3. – Regular Care
SWEEP : Brooms with fine, exploded ends trap dust and grit effectively.
VACUUM : Canister vacuums with special bare floor attachments are the surest way to get rid of all the dirt and dust.
DUST MOP : Use a good dust mop one with a 12 to 18 inch cotton head and a special dust mop treatment. Spray the treatment onto the mop head 12 to 24 hours before dust mopping.
Oak and maple are the most popular hardwoods used in flooring. Ash, beech,birch, cherry, hickory and walnut are other favorites for floors and decorative accents.
4. – Damp Mopping. – Some professionals recommend that you damp mop your hardwood floor and others cringe at the suggestion. Just remember, if your floor's finish is in good shape and mopping is done correctly, the water won't penetrate even the oil and wax finishes. You're cleaning the finish, not the wood, so don't use water if the finish is in poor shape.
Damp Mopping: This is the fastest and best way to deep-clean solid hardwood floors. Depending on how much use your floor gets, you may have to mop it as often as once a week. Use a neutral pH wood cleaner and water, or manufacturer recommended products. Wet the mop and wring so it's about half-dry. Wet the floor with the mop. Dip the mop into clean water, wring it as dry as you can and mop over the floor again.
Heavy-Duty Mopping: If floors are property sealed, the little extra water and cleaner required will not injure your hardwood floor, but use common sense.
Vinegar: Often prescribed to clean hardwood floors — does nothing for removing grease and soil.
5. – Maintenance Coat. – If you can't restore your solid hardwood floor's luster with deep cleaning or by simply buffing, you may want to apply a maintenance coat. Waxing is an easy way to restore your hardwood floor's natural beauty.
Though a controversial treatment for surface finishes, floor polish or wax can give you a good-looking floor in a matter of minutes. If you don't want to apply a wax to your surface finish, consult a professional.
Pros: Wax can be easily cleaned, buffed and rewaxed to make it look like its original condition. Wear and tear will be on the wax, not the finish. It is easily stripped and reapplied.
Cons: Waxing may limit some refinishing and re-coating options down the road. If not properly stripped, the wax can cause adhesion problems when re-coating the surface.
Only wax a surface finish if the original finish is in poor shape and you don't plan to refinish your floor in the near future.
6. – Removing Stains In Waxed Floors. – No matter how careful you are a stain can still occur.
Water Stains: Rub the spot with No. 2 steel wood and rewax. For more serious water stains, lightly sand with fine sandpaper, clean the spot with No. 1 or 00 steel wool and mineral spirits or floor cleaner then refinish and wax.
Cigarette Burns: If not severe, the burn can be removed by rubbing with steel wool moistened with soap and water.
Heel and Caster Marks: Rub vigorously with fine steel wool and floor cleaner. Wipe dry and polish.
Ink Stains and Other Dark Spots: Use No. 2 steel wool and floor cleaner to clean the spot and surrounding area. Thoroughly wash the affected area. If the spot remains, sand with fine sandpaper, re-wax and polish. Stubborn stains may require that you replace the affected area.
Chewing Gum and Wax Deposits: Ice until the deposit is brittle and crumbles off. Pour floor cleaner around the stain so the fluid soaks under and loosens it.
Alcohol Spots: Rub the spot with liquid or paste wax.
Repairing Wax Finishes: Rub fine steel wood in a puddle of reconditioner or paint thinner and clean as you go. Apply wax and buff.
Always start cleaning at the edge of a stain and work toward the center so it won't spread.
Removing stains and repairing surface finishes.
Use steel wood or sand paper to remove one or two complete layers of finish along the entire length of the board where damage has occurred. Remove all dust. Apply the same type of finish that was removed, being careful not to build additional layers on top of adjoining boards.
Squeaks: When the air in your home becomes extremely dry, your floor will lose moisture and contract. Conversely, when humidity is high, your floor will absorb moisture and expand slightly. As humidity stabilizes, hardwoods regain their original dimensions. Air conditioning in summer and humidifying in winter will keep your home's humidity comfortable for you and your floor. Prolonged cycles of shrinking and swelling of your hardwood floor may result in squeaks. They can be easily corrected.
Silencing Squeaks: Apply liquid wax, powdered soap, talcum powder or powdered graphite between floor boards that are rubbing together. If that doesn't stop the squeak, drive two-inch finishing nails through pilot holes on both edges of the board then hide the hole with matching color putty or wax.

Source:Pioneer Thinking

Floor Floor We Restore has re-established the attractiveness in hundreds of homes and businesses throughout the Houston Area for Over 20 Years. Since 1984, we have provided maintenance and restoration that is essential to the beauty of floors and surfaces everywhere. With 30+ years of experience and never using subcontractors, we have perfected our trade to better serve you. We are a locally, family owned and operated company who GUARANTEE all of our work..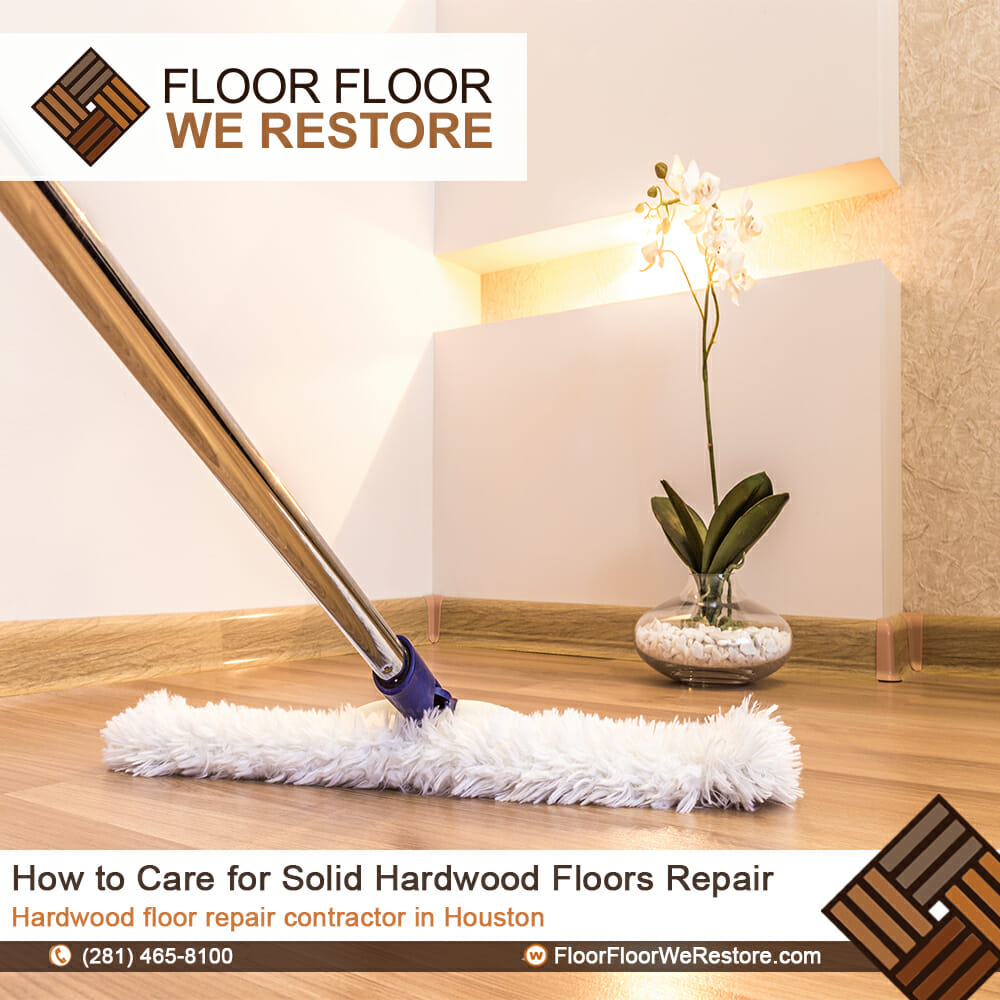 Hardwood floor repair contractor in Houston


Floor Floor We Restore, marble flooring in Houston, hardwood floor restore in Houston, Houston restore hardwood floor, Houston restore hardwood floor shine, restore wooden floor, restore a floor reviews, restore floor tiles, wood floor restore, floor restorers, floor restore and more, floor restorer, hardwood restore, stone restore, slate restore, saltillo restore, tile restore, grout restore, terrazzo restore, travertine restore, floor surface restore, floor recovery, cleaning hardwood floors, hardwood floor polish, buffing floor, water damage floor restoration, sand and finish hardwood flooring, hardwood floor installation, hardwood floor repair, hardwood floor installation, hardwood floor repair, hardwood floor installation, hardwood floor repair.