Floor restore and more contractor in Houston

Laminate is an affordable and and durable option for kitchen and bathroom countertops. It's a made of a mix of plastic, paper and board. It's often called Formica, a trademarked term that has become a generic word for laminate. Whatever you call it, knowing how to clean laminate countertops is key to keeping it looking lovely.

The best way to keep laminate counters clean is to wipe up spills immediately. The longer it sits, the more likely it is to stain.

For daily cleaning, use a soft cloth to wipe a mild liquid detergent or commercial cleaner on the countertop. Use a soft toothbrush to clean along seams or metal edging. Rinse with clean water and dry with a cloth towel. Don't use too much water, especially near the seams of the laminate, because it can penetrate and cause the laminate to swell and crack. Don't use an acidic cleaner like bleach, or a tub and tile cleaner, because it can etch or permanently discolor the laminate. To clean greasy buildup, use a commercial kitchen cleaner or make your own cleaning solution by mixing vinegar and water in a 50/50 solution.

To remove stains from coffee or tea, mix a paste of baking soda and a mild household cleaner and apply to the soiled spot. Let the paste sit for five minutes, then rinse with a soft cloth. You can use a nylon bristle brush but don't scrub. You might scratch the surface of the laminate. Baking soda is a bit abrasive and can leave fine scratches, so take it easy. Don't use steel wool, ever. Once a laminate countertop is scratched it becomes more porous and will stain much easier. For incredibly tough stains, leave the baking soda paste on the stain overnight and wipe off in the morning. Another option for removing stains is to rub the spot with a cotton ball moistened with bleach. Rinse and dry.

Another tip on how to clean Formica countertops: Use nail polish remover for stains like ink. Put a little on a cotton ball or soft cloth and rub it on the stain. Be sure the cloth is white, because nail polish remover could remove the dye from the fabric and stain the laminate.

You can buy countertop coatings at home improvement stores that will seal the laminate and help it resist future stains.

Knowing how to clean Formica countertops will keep them looking lovely and help them last longer.
Source:Diy Network
Floor Floor We Restore has re-established the attractiveness in hundreds of homes and businesses throughout the Houston Area for Over 20 Years. Since 1984, we have provided maintenance and restoration that is essential to the beauty of floors and surfaces everywhere. With 30+ years of experience and never using subcontractors, we have perfected our trade to better serve you. We are a locally, family owned and operated company who GUARANTEE all of our work..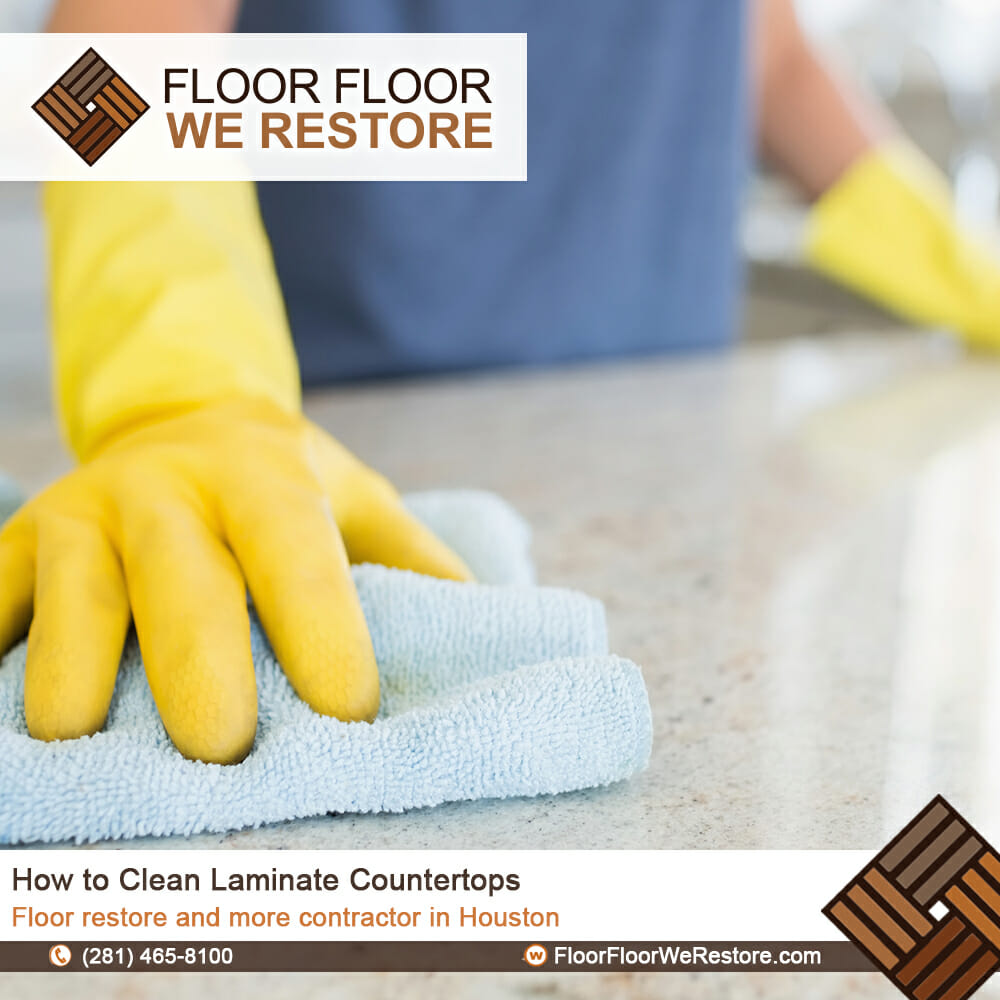 Floor Restore and More Contractor in Houston
Floor Floor We Restore, marble flooring in Houston, hardwood floor restore in Houston, Houston restore hardwood floor, Houston restore hardwood floor shine, restore wooden floor, restore a floor reviews, restore floor tiles, wood floor restore, floor restorers, floor restore and more, floor restorer, hardwood restore, stone restore, slate restore, saltillo restore, tile restore, grout restore, terrazzo restore, travertine restore, floor surface restore, floor recovery, cleaning hardwood floors, hardwood floor polish, buffing floor, water damage floor restoration, sand and finish hardwood flooring, hardwood floor installation, hardwood floor repair, hardwood floor installation, hardwood floor repair, hardwood floor installation, hardwood floor repair.