Countertops restoration and installation in Houston
There's more to cleaning kitchen countertops than just swiping at the counter with a cloth and cleaning products. To clean your countertops properly and without damaging the material your counter is made from you need to know what types of cleaners are safe for your countertops, as well as those you should avoid at all costs.

Note: The majority of our methods are for cleaning your countertops on a daily basis. If you're looking to do a full-on deep clean of your counters, it's important you research the materials they're made from, and understand what cleaning products the manufacturers recommend. The last thing we want is for you to damage a beautiful countertop.

CLEAN GRANITE KITCHEN COUNTERTOPS.

To clean granite countertops, all you need is some warm soapy water. Dish soap works perfectly to make the solution. Wipe your countertops clean with your soapy water and a microfiber cloth. You want to rinse your microfiber cloth clean with plain water every now and then so that you're not just spreading dirty suds around. Once you've finished, you need to buff the granite counter with a dry microfiber cloth to get rid of streaks and water stains. It's important to note that you shouldn't ever clean a granite countertop with vinegar, as you can compromise the integrity of the stone or ruin the sealant used on the granite.

CLEAN LAMINATE KITCHEN COUNTERTOPS.

Laminate countertops are fairly common in many homes and apartments. Fortunately, cleaning laminate countertops is pretty easy. Here again, you can use a simple solution of dishwashing soap and water applied with a microfiber cloth, making sure to rinse your cloth with clean water as you go. You want to avoid using any cleaning tools that could scratch the laminate like scrub brushes or scouring pads as these counters are not made of the most durable of materials.

CLEAN SOAPSTONE COUNTERTOPs.

Soapstone countertops are often treated with mineral oil, which helps give them their luster. Scrubbing soapstone with powdered cleaners can remove this shine, meaning you'll have to give your countertop a mineral treatment more often. To avoid this time-consuming chore, clean soapstone counters using dish soap, warm water and a microfiber cloth. Afterwards, polish the counter with a dry microfiber cloth to get rid of streaks. And, finally, don't ever clean stone countertops with vinegar, as you can permanently damage the finish.
Source:Merry Maids
Floor Floor We Restore has re-established the attractiveness in hundreds of homes and businesses throughout the Houston Area for Over 20 Years. Since 1984, we have provided maintenance and restoration that is essential to the beauty of floors and surfaces everywhere. With 30+ years of experience and never using subcontractors, we have perfected our trade to better serve you. We are a locally, family owned and operated company who GUARANTEE all of our work..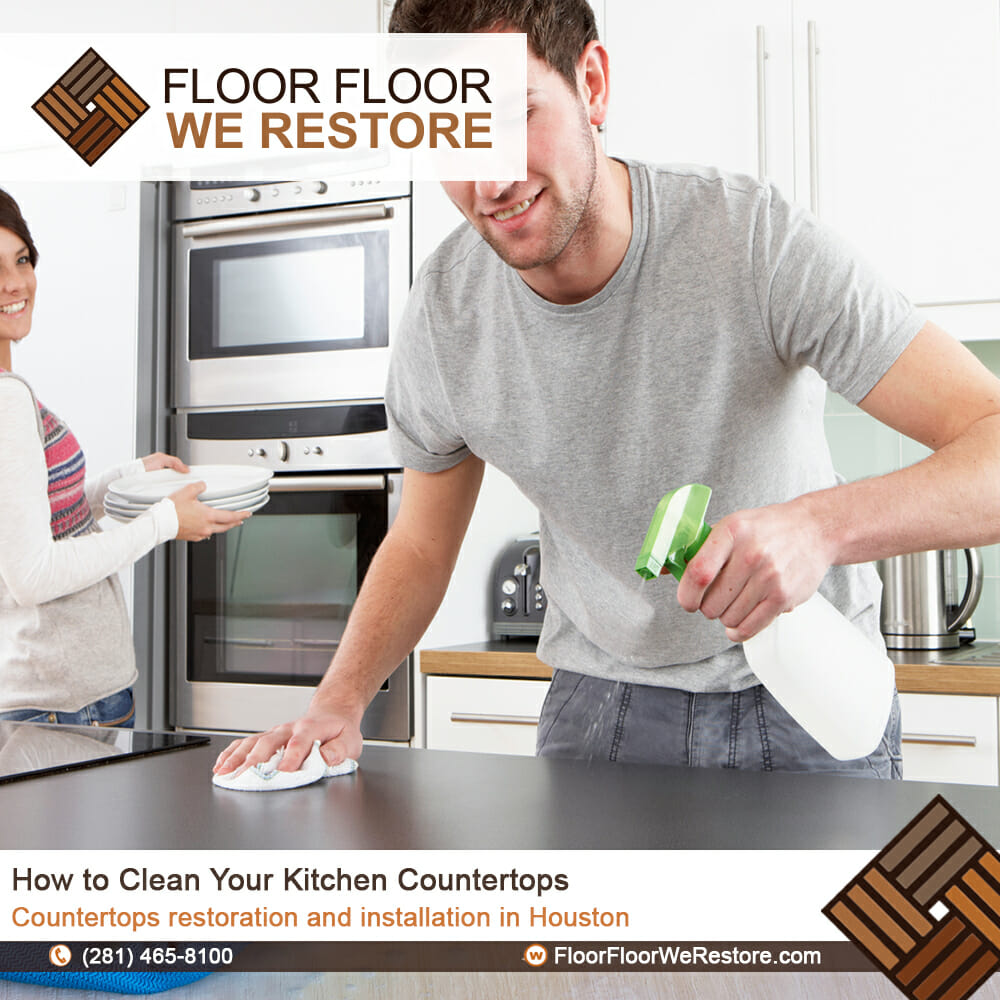 Countertops Restoration and Installation in Houston
Floor Floor We Restore, marble flooring in Houston, hardwood floor restore in Houston, Houston restore hardwood floor, Houston restore hardwood floor shine, restore wooden floor, restore a floor reviews, restore floor tiles, wood floor restore, floor restorers, floor restore and more, floor restorer, hardwood restore, stone restore, slate restore, saltillo restore, tile restore, grout restore, terrazzo restore, travertine restore, floor surface restore, floor recovery, cleaning hardwood floors, hardwood floor polish, buffing floor, water damage floor restoration, sand and finish hardwood flooring, hardwood floor installation, hardwood floor repair, hardwood floor installation, hardwood floor repair, hardwood floor installation, hardwood floor repair.