Steps
If the dog chewed up an ink pen on your ceramic floor or your Kindergartener drew a picture on your ceramic floor, don't panic. Ink can be removed from glazed ceramic floors in almost every case with a little care and attention. Even unglazed ceramic tile can be cleaned in many cases.
Mop the floor with your usual floor cleaning solution but double the concentration.


For example if you usually use one cup of floor cleaner to a 2 gallon (7.6 L) bucket, use 2 cups.
Mix the cleaner with hot water.
Rinse the floor with clear water.
If the ink stain isn't gone, proceed to the next step.

Scrub the stain with a scrub brush and some scrubbing cleanser approved for use on ceramic sinks or appliances.

You may want to scrub any stained grout with a stiff toothbrush.
Rinse floor once it's scrubbed. If the stain is still there, proceed to the next step.

Buy a package of methylene chloride from a hardware store that carries commercial cleaning supplies.

Mix the methylene chloride with flour until it forms a thick paste.
Using rubber gloves, apply this paste to the stained area.
Let it dry on the stain for 12 to 24 hours. (Keep pets and children away from this chemical.)
Scrape it off after the time has passed.
Rinse the area and examine whether any remnants of the stain are still there.
If the stain is almost gone you can try this method a second time. If it hasn't worked, go to the next step.

Sand the stain with a piece of fine sandpaper. This is best reserved for unglazed floor tile. Sanding glazed tile will remove the glaze and leave a dull spot in the flooring.
Source:wikihow
Floor Floor We Restore has re-established the attractiveness in hundreds of homes and businesses throughout the Houston Area for Over 20 Years. Since 1984, we have provided maintenance and restoration that is essential to the beauty of floors and surfaces everywhere. With 30+ years of experience and never using subcontractors, we have perfected our trade to better serve you. We are a locally, family owned and operated company who GUARANTEE all of our work..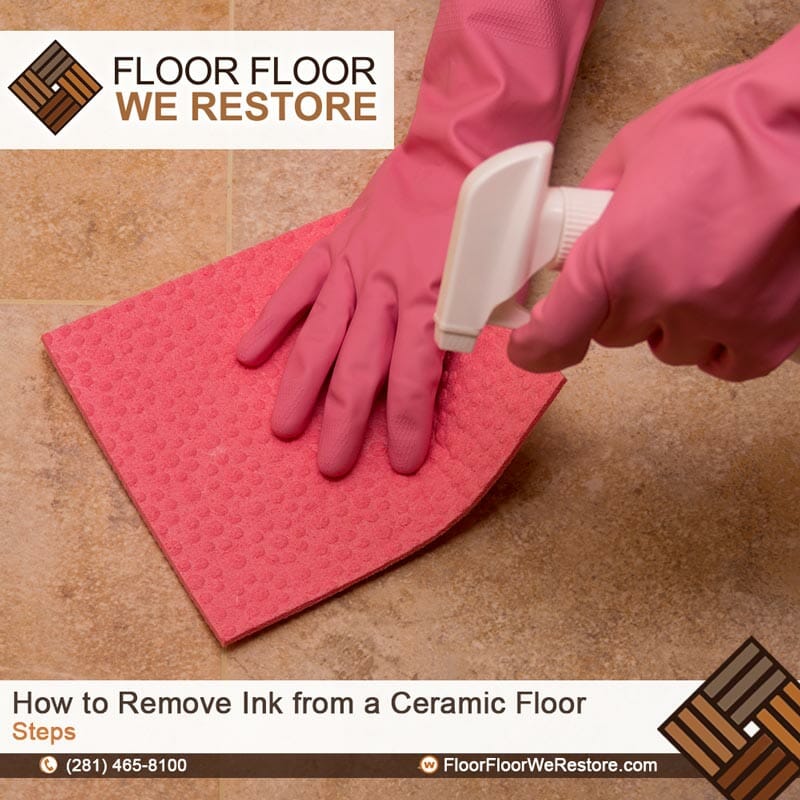 Houston floor cleaning expert
Floor Floor We Restore, marble flooring in Houston, hardwood floor restore in Houston, Houston restore hardwood floor, Houston restore hardwood floor shine, restore wooden floor, restore a floor reviews, restore floor tiles, wood floor restore, floor restorers, floor restore and more, floor restorer, hardwood restore, stone restore, slate restore, saltillo restore, tile restore, grout restore, terrazzo restore, travertine restore, floor surface restore, floor recovery, cleaning hardwood floors, hardwood floor polish, buffing floor, water damage floor restoration, sand and finish hardwood flooring, hardwood floor installation, hardwood floor repair, hardwood floor installation, hardwood floor repair, hardwood floor installation, hardwood floor repair.