Travertine Restore
Many foods, drinks, and cosmetics contain acids that may etch or dull a stone's surface. For this reason, it's important to use coasters, trivets on counter tops and tables or where food preparation is likely.
Many food preparation stone surfaces use a sealant; be aware that any sealant or impregnator must be nontoxic and safe for food preparation surfaces. Spills should be blotted immediately or as soon after as possible to avoid damaging the stone's surface. Regular cleaning with a solvent-free cleaner will keep surfaces looking their best.
Because travertine comes from the limestone family, you should never use an acid or chemical cleaner when caring for the surface. There are many cleaners readily available for stone cleaning. Your stone supplier or installer can direct you to the best cleaner available for your travertine stone.
Sealing Travertine
In order to keep your travertine tile looking like new, it is important that a sealant be applied. Some tiles will not require this, as they will be pre-sealed. To determine if your tile needs to be sealed, apply a small amount of water to the surface. If the water is absorbed by the tile and the tile darkens, it needs to be sealed. The surface preparation, density, and porosity of the stone will help you determine whether a water based or petroleum based sealer is indicated. Check for the tile manufacturer's recommendation and then purchase the very best sealant in your budget.
Stain Removal Tips
Removal of most surface stains is possible by using the proper household or commercial cleaning product. The first step to removal, however, is identification. Once you have identified the cause of the stain, you will know what type of cleaning method is required to achieve the best result.
Oil-based Stains – An oil-based stain is one created by grease, cooking oil, cosmetics, tar, and other items that have any oil in them. An oil-based stain darkens the stone and will usually need to be chemically cleaned in order to dissolve and then rinse away the source. First, you must remove any excess staining agent by wiping it away if it's soft, or in the case of tar, chipping it off. Then clean the area gently with a soft liquid cleanser. Suitable cleansers include ammonia, household detergent, acetone, or mineral spirits. It's important that you don't pour the cleaner directly on the staining agent itself, as that could cause the agent to thin and seep into more of the stone. Instead, wet a cloth with the cleaner and place it over the stain in order to draw the agent into the cloth. You may also use a cleaner specifically designed to remove oil-based stains such as an alkaline degreaser or a homemade poultice.
Organic Stains – An organic stain is one created by an organic substance such as coffee, tea, tobacco, fruit juice, food, paper, urine, leaves, bird droppings, or bark. These substances will often leave a pinkish-brown stain that, if outdoors, may disappear after the source of the stain has been removed because of the normal bleaching process caused by the rain and sun. However, if the stain is indoors you will have to use a cleaning formula. To make your own you can use 12% hydrogen peroxide mixed with a few drops of ammonia. You can also purchase commercially marketed cleaners or use a homemade poultice.
Ink Stains – Any form of ink, such as that found in magic markers or pens, could cause an ink stain. If the color of the stone is light, clean it with bleach or hydrogen peroxide. For darker stones use acetone or lacquer thinner. Do not pour a cleaner directly on the stain, as it could result in the staining agent thinning and spreading further along the surface. Instead, wet a cloth with the cleaning agent and allow the stain to be drawn into it.
Paint Stains – If the paint is covering only a small portion of the tile, scrape it off with a razor blade, or remove with a lacquer thinner. If a large area is covered by the paint, it must be removed with a commercially formulated liquid paint stripper. Under no circumstances should you use flame tools or acid to strip the paint from the stone.
Water Spots and Rings – Water damage occurs due to the surface accumulation of hard water. To remove these stains buff the affected area with dry #0000 steel wool.
Fire and Smoke Damage – This damage is typically seen with stone that is part of a fireplace. In order to remove the stain you must thoroughly clean the stone. This is most easily accomplished with commercially formulated smoke removal products.
Etch Marks – These stains are left by acid that has been left on the surface of the stone. Some acids will cause the finish to be etched but the surface of the stone won't actually be stained; other acids will etch the finish and discolor the stone. Once the acid has been removed, wet the surface with water and apply marble polishing powder. Rub the powder into the stone with a buffing pad and a drill or polisher set to a low speed, or by hand with a damp cloth. Buff until the etch marks disappear and the surface shines. Honing may be needed for a deep stain that requires a professional stone refinisher.
Source:builddirect
Floor Floor We Restore has re-established the attractiveness in hundreds of homes and businesses throughout the Houston Area for Over 20 Years. Since 1984, we have provided maintenance and restoration that is essential to the beauty of floors and surfaces everywhere. With 30+ years of experience and never using subcontractors, we have perfected our trade to better serve you. We are a locally, family owned and operated company who GUARANTEE all of our work.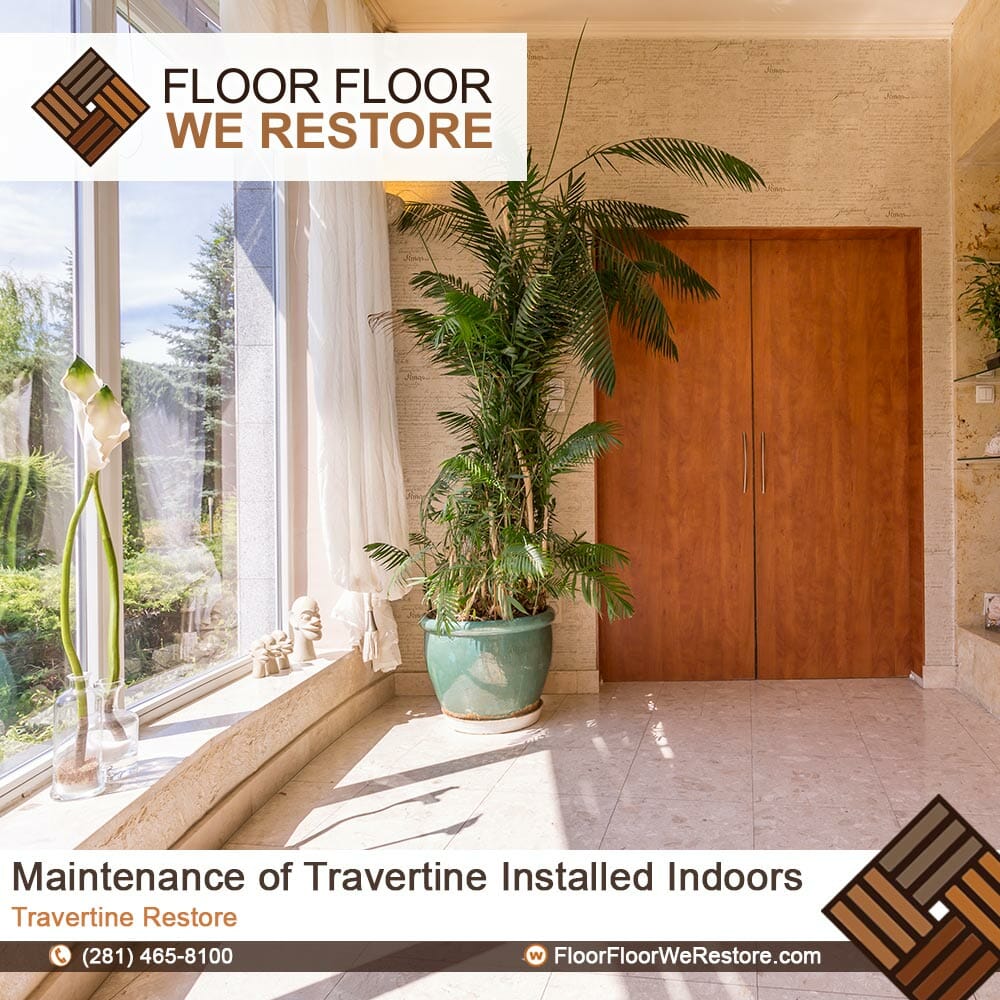 Travertine Restore
Floor Floor We Restore, marble flooring in Houston, hardwood floor restore in Houston, Houston restore hardwood floor, Houston restore hardwood floor shine, restore wooden floor, restore a floor reviews, restore floor tiles, wood floor restore, floor restorers, floor restore and more, floor restorer, hardwood restore, stone restore, slate restore, saltillo restore, tile restore, grout restore, terrazzo restore, travertine restore, floor surface restore, floor recovery, cleaning hardwood floors, hardwood floor polish, buffing floor, water damage floor restoration, sand and finish hardwood flooring, hardwood floor installation, hardwood floor repair, hardwood floor installation, hardwood floor repair, hardwood floor installation, hardwood floor repair.