Cleaning Hardwood Floors
Let's start with the basics.
1. Sweeping a laminate floor is a mistake. It may sound strange, but a traditional broom is not your best bet with a laminate floor.
You need a dry dust mop, or a vacuum cleaner to get the job done. Regular brooms will leave behind too many particles. Particles mix with the wet mop and get spread around on the floor. At best they'll leave streaks and residue behind. At worst, they'll scratch and pit the surface of your floor. Either way, a broom is not the way to go. If you do decide to use a vacuum cleaner, a machine that has an on/off brushroll button or a hard floor setting will be best.
2. Laminate floor cleaner is not a necessity.
Some people have a specific brand that they love and won't give up, but an expensive laminate floor cleaner is not always the answer. Choose a cleaner that is designed to work with your floor type and fits your budget.
Give homemade mopping solutions a try. Sometimes just a little water goes a long way. Whatever you do, don't use too much cleaner. Using too much soap is tempting when you really want something clean, but all it does is leave a residue behind that dulls the finish of the floor. The residue is the leading cause of dull looking laminate floors.
3. Liquid isn't good for laminate.
How are you supposed to clean something without water? Water and other liquids can actually seep in between the laminate boards and cause swelling, damaging the laminate. You don't need a ton of water or liquid to clean these floors. Be cautious about having too much. Try only spraying as much as you need on a section of the floor as you mop. If a lot of water or liquid is left behind after you mop a spot, you're using too much. The floor should be able to dry on its own within 1-2 minutes of you mopping it.
4. Buff the floor to shine it.
If you really want to make sure that your floor shines, you'll need to take a few minutes to buff it dry. Try using an absorbent cleaning cloth or mop head. Cloth diapers and microfiber cleaning cloths make the best buffing rags. Gently buff the floor to a nice shine.
5. Protect the floor.
Now that you know how to make the floor look great, keep it looking great by protecting it. Make sure you have indoor and outdoor mats positioned at the entrances of your home.
Consider a no-shoe rule in the house. Wipe up spills and messes right when they occur. Use furniture protectors and watch out for overfilling plants that may leak onto the floor. These are simple things to do with your laminate floor that will prevent it from aging or being damaged prematurely.
Source:thespruce
Floor Floor We Restore has re-established the attractiveness in hundreds of homes and businesses throughout the Houston Area for Over 20 Years. Since 1984, we have provided maintenance and restoration that is essential to the beauty of floors and surfaces everywhere. With 30+ years of experience and never using subcontractors, we have perfected our trade to better serve you. We are a locally, family owned and operated company who GUARANTEE all of our work.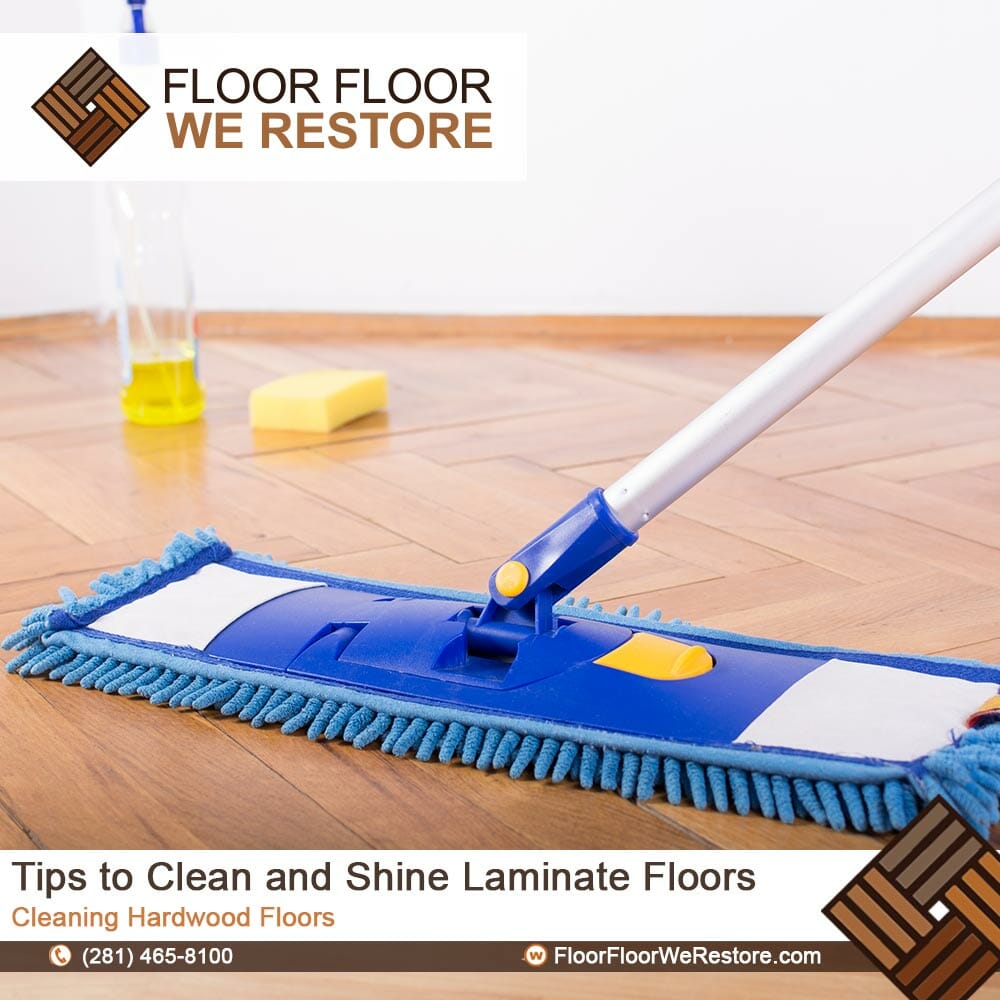 Cleaning Hardwood Floors
Floor Floor We Restore, marble flooring in Houston, hardwood floor restore in Houston, Houston restore hardwood floor, Houston restore hardwood floor shine, restore wooden floor, restore a floor reviews, restore floor tiles, wood floor restore, floor restorers, floor restore and more, floor restorer, hardwood restore, stone restore, slate restore, saltillo restore, tile restore, grout restore, terrazzo restore, travertine restore, floor surface restore, floor recovery, cleaning hardwood floors, hardwood floor polish, buffing floor, water damage floor restoration, sand and finish hardwood flooring, hardwood floor installation, hardwood floor repair, hardwood floor installation, hardwood floor repair, hardwood floor installation, hardwood floor repair.