How to Repair Your Water Damaged Floor
Step 1. – Remove the Water. – Start out by removing any excess water on the floor. Until you thoroughly dry the area, you will not be able to properly make any repairs. Use the wet vacuum to remove the water. You should also place fans in the water damaged area. Doing so will help dry the water much more quickly.
Another good idea is to leave dehumidifiers in the room for a few days. Laminate and hardwood floors will sometimes be back to normal once they are dry. However, many times more work will be required.
Step 2. – Remove the Floor. – If the floor is still damaged after it has dried, you will need to remove the affected area. Use a saw to cut into the flooring. If you are dealing with hardwood, the hole you saw will give you a good place to insert a pry bar. You will then be able to use the pry bar to remove the damaged boards. For laminate floors, you should start removing the flooring along the nearest wall. You may have to remove boards which are not damaged in order to reach the ones that are.
Step 3. – Check the Sub Floor. – Once the old flooring is out of the way, you will need to check the condition of the sub floor. If you are dealing with a plywood sub floor, you will most likely need to replace it. Use your saw to cut out the damaged areas and fill the holes with new plywood. If you are dealing with a concrete sub floor, you need to make sure that it is completely dry. If it is not, keep using the fans and dehumidifiers.
Step 4. – Replace the Floor. – If you are dealing with laminate flooring, you should be able to snap-in some replacement boards and re-install the rest of the floor. You will most likely need to install a new pad under the damaged areas as well. Find the exact same flooring that you originally had in order to make a perfect match. For solid wood flooring, you may be able to install raw wood before refinishing the floor to match. Put the new boards in place and nail them into the floor.
Step 5. – Sand the Floor. – Use a sander to smooth the new and old flooring. Then vacuum away all of the dust from the room.
Step 6. – Stain and Coat. – Stain all of the wood flooring to match. Allow the stain to dry and then apply a second coat. After that coat dries, you should apply a few more coats of polyurethane finish. Let the finish dry. Your floor should then be ready to use.
Source:Do It Yourself
Floor Floor We Restore has re-established the attractiveness in hundreds of homes and businesses throughout the Houston Area for Over 20 Years. Since 1984, we have provided maintenance and restoration that is essential to the beauty of floors and surfaces everywhere. With 30+ years of experience and never using subcontractors, we have perfected our trade to better serve you. We are a locally, family owned and operated company who GUARANTEE all of our work..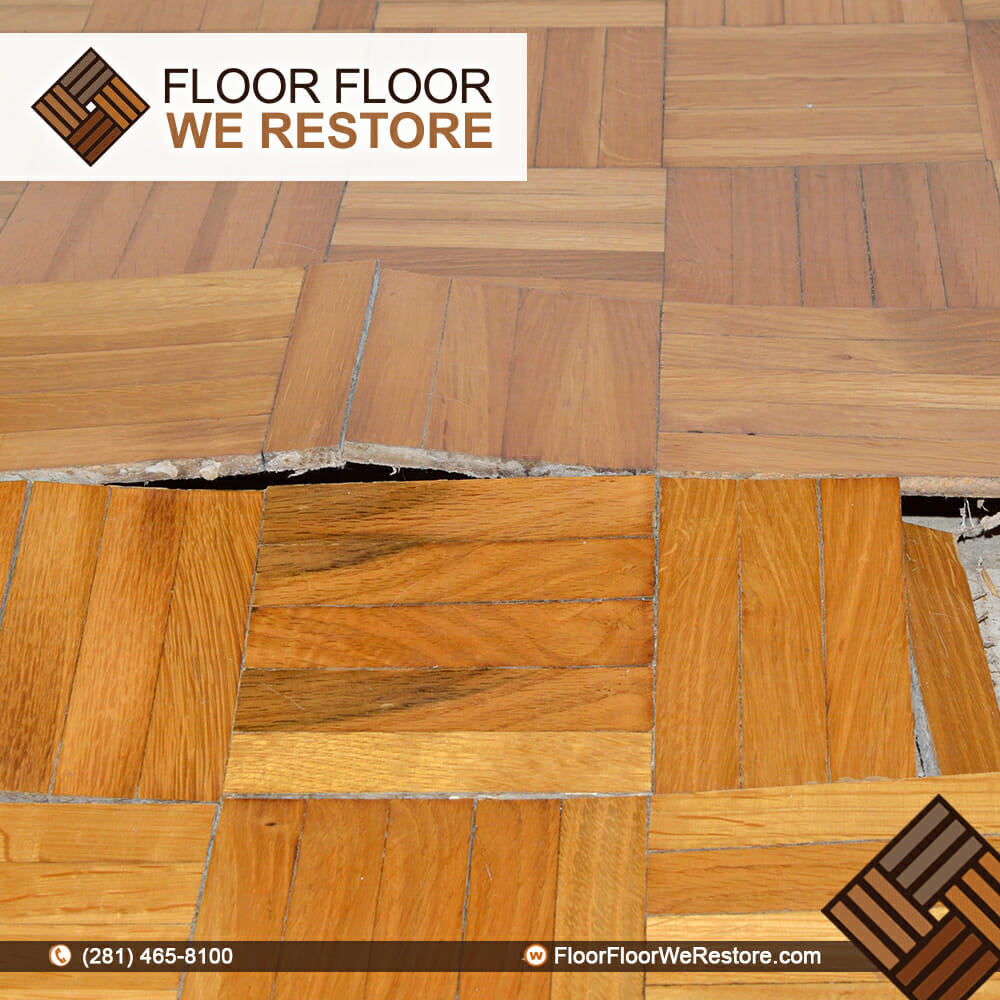 Water Damage Repair
Floor Floor We Restore, marble flooring in Houston, hardwood floor restore in Houston, Houston restore hardwood floor, Houston restore hardwood floor shine, restore wooden floor, restore a floor reviews, restore floor tiles, wood floor restore, floor restorers, floor restore and more, floor restorer, hardwood restore, stone restore, slate restore, saltillo restore, tile restore, grout restore, terrazzo restore, travertine restore, floor surface restore, floor recovery, cleaning hardwood floors, hardwood floor polish, buffing floor, water damage floor restoration, sand and finish hardwood flooring, hardwood floor installation, hardwood floor repair, hardwood floor installation, hardwood floor repair, hardwood floor installation, hardwood floor repair.