Houston Restore Hardwood Floor
1. – Carpet Seams. – Unless your room is narrower than 15 feet, you're going to have seams. Most carpet comes in widths of 12 feet and 15 feet and on occasion, 13 feet. The degree of visibility of your seams depends on the texture and color you choose, as well as the lighting and furniture placement in your room.
2. – Bending. – When you carpet your stairs, its backing may show on the bends. And if it's a looped carpet, it can snag especially at the seams or transitions. Check our Carpet Care section for information on how to properly care for looped carpet.
3. – Nap (Pile Shading). – A carpet's nap runs in a single direction, making pile reversal or the shading you see from a vacuum trail, completely normal for most cut pile styles. If you're not a fan of this, window treatments and furniture placement can minimize the effect.
4. – Quality. – Let's face it. You get what you pay for. If you want your carpet to have a great pile density and tighter twist construction (which leads to improved durability), then you're going to want to go with a higher quality (and more expensive) product. New carpet adds value to any home, so it's an investment worth making.
5. – Color. – Carpet covers a large part of any room, so it's vital that you consider some basic rules when selecting its color. First off, know that once your carpet is installed, it's going to look lighter in color than the sample you saw in the store. Don't ask us why, that's just the way it is kinda like losing a sock in the dryer.
6. – Stains. – It's going to happen, no matter how long you hold out from sipping wine or munching on chips and salsa in your freshly carpeted room. Stain protection is an important consideration when buying carpet. Products come with various levels of protection and warranties. As the quality of a carpet increases, so does its stain protection level and warranty coverage.
7. – Carpet Cushion. – Padding or cushion is the layer of spongy material between carpet and floor. It's the padding not the carpet that determines whether the carpet feels good or great under your feet. A quality padding can help preserve a carpet's look and can extend its life and comfort by providing tougher protection against wear and tear.
8. – Warranty. – It's a good idea to read the product specs and warranty coverage on the back labels of your carpet prior to purchasing. Doing so will give you the information you need to protect your investment and eliminate any surprises down the road.
9. – Cost. – "Cost per square foot" is just one component of the overall price tag for new carpet. Ask your retailer to calculate the total cost of your floor covering project.
Source: WFCA


Floor Floor We Restore has re-established the attractiveness in hundreds of homes and businesses throughout the Houston Area for Over 20 Years. Since 1984, we have provided maintenance and restoration that is essential to the beauty of floors and surfaces everywhere. With 30+ years of experience and never using subcontractors, we have perfected our trade to better serve you. We are a locally, family owned and operated company who GUARANTEE all of our work..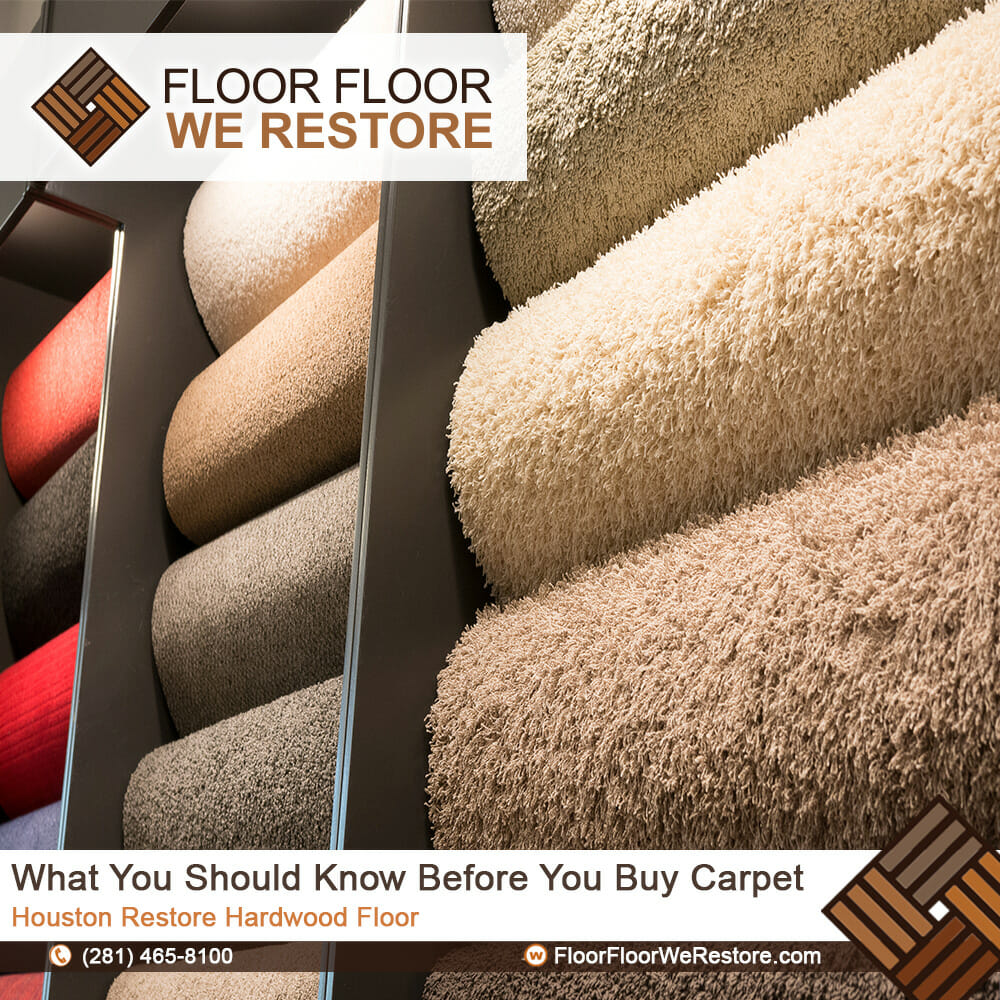 Houston Restore Hardwood Floor.

Floor Floor We Restore, marble flooring in Houston, hardwood floor restore in Houston, Houston restore hardwood floor, Houston restore hardwood floor shine, restore wooden floor, restore a floor reviews, restore floor tiles, wood floor restore, floor restorers, floor restore and more, floor restorer, hardwood restore, stone restore, slate restore, saltillo restore, tile restore, grout restore, terrazzo restore, travertine restore, floor surface restore, floor recovery, cleaning hardwood floors, hardwood floor polish, buffing floor, water damage floor restoration, sand and finish hardwood flooring, hardwood floor installation, hardwood floor repair, hardwood floor installation, hardwood floor repair, hardwood floor installation, hardwood floor repair.